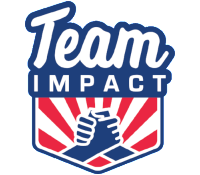 The WSA is proud to partner with Team IMPACT (TI) to spread the word on how young individuals with Williams syndrome can participate in the inspiring program.
Team IMPACT is a two-year commitment and relationship between college sports teams and individuals with special needs that "connects children with serious and chronic illnesses to local college athletic teams, forming life-long bonds and life-changing outcomes." 
Many of you may have seen the recent news story of 10-year-old Coleman Walsh and his exciting experience with Team IMPACT.  Coleman was drafted onto Babson College's Men's Hockey team. If you missed the news story and video you can view it here:  http://bit.ly/colemanbabson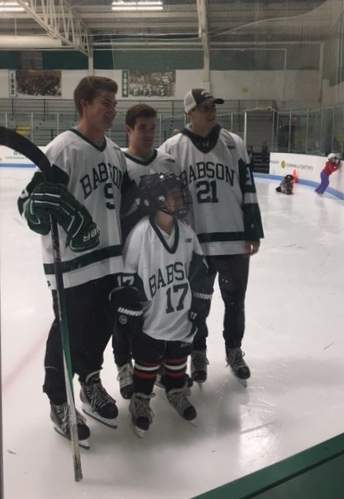 Coleman's mother Nanci Walsh, a regional chair for the WSA, is thrilled with the program and how it has worked for her son and family.  Nanci tells us that "working with Team IMPACT has exceeded our family's expectations and they have gone above and beyond to ensure this relationship will be a success.  When Draft Day was approaching, our relationship manager from TI went above and beyond to ensure Coleman would not be overwhelmed and would feel comfortable with the planned activities.  As Coleman's relationship with the Babson College hockey team has evolved, his spirit is awakened and his confidence is growing.  These young men are teaching him how to be an active part of a team, to work hard in order to achieve goals, and most of all to have fun while doing what you love.  Coleman enjoys emailing and texting and eagerly anticipates their responses!  It has been our pleasure to see Coleman so happy to join this community of players and feel that he has a team to call his own—something he has wanted for so long.  To know that he has 20+ guys rooting for him when it comes to school, hospital appointments or when he is having a tough day motivates Coleman to get through whatever struggles or anxieties he is feeling."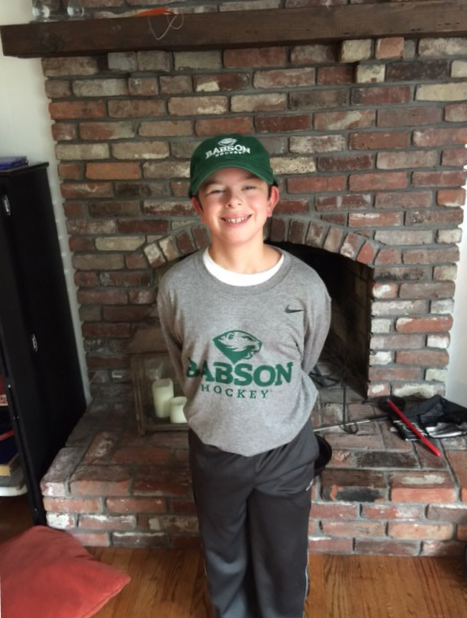 Team IMPACT was launched in 2011 by co-founders Jay Calnan and Dan Kraft.  The organization seeks to improve the quality of life for children by matching them with local college athletic teams.  Calnan and Kraft enlisted support from a group of former classmates and business associates to foster key outcomes for children with serious and chronic illness by harnessing the power of a team to impact the children, their families, and college athletic teams. The children are drafted onto collegiate sports teams and become an official member of the team from "draft day" through to "graduation" from the program. The child gains camaraderie and support and the student athletes are taught lessons about courage, resiliency and life perspective that are not often learned in a classroom. Through structured case management, the organization establishes and cultivates these relationships to ensure a successful experience for the families and teams involved.
TI serves children 5-16 years old, whose social relationships and/or emotional well-being have been adversely impacted by their medical circumstances (having a chronic or acute illness or physical disability).  It is meant for families who are looking for ways to re-engage as a unit, are willing to make a commitment to their participating child, and are committed to building a relationship with an extended support network. They are paired with collegiate athletes from across the country (and their college sports teams) who express interest in participating in the program, and are willing to make a two-year commitment to a child, building a relationship with them and their family as a teammate.
The program has enrolled college teams across the country who are hoping to meet and inspire new friends. To date, TI has worked with two families who have children with WS: one active (Coleman), and one alumni.  WSA member and Team IMPACT alum, Michaela Spinney (front row, center) was placed with the Southern New Hampshire University Cheer team in 2013.  It was such a good experience, it led to a paid position at SNH. Eighteen-year-old Michaela is now a full assistant coach, attending all practices, planning routines and assisting on the mats—and she is very excited to get the opportunity to travel with coach McCarty and the team to Florida this winter for the national championship cheer competition. Michaela's experience through Team IMPACT has resulted in lasting friendships, mentoring and meaningful employment. Two other children with WS are currently waiting to be placed with a team.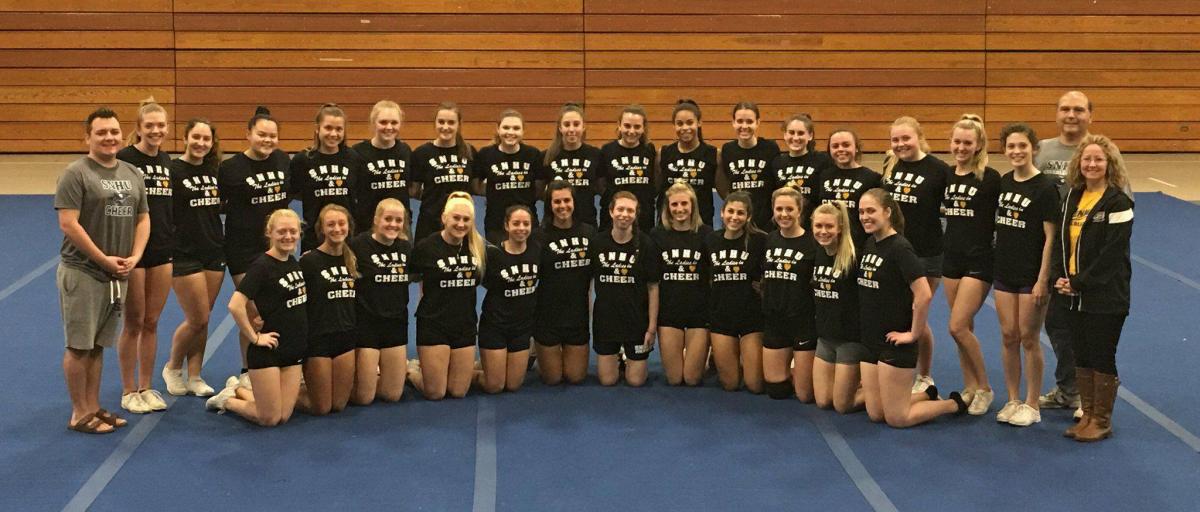 If you think Team IMPACT is a good fit for your child with Williams syndrome and your family, go to http://www.goteamimpact.org/ to learn more and apply.  Our kids, like most, get excited about sports and would love to belong to a team.  TI provides that and so much more!