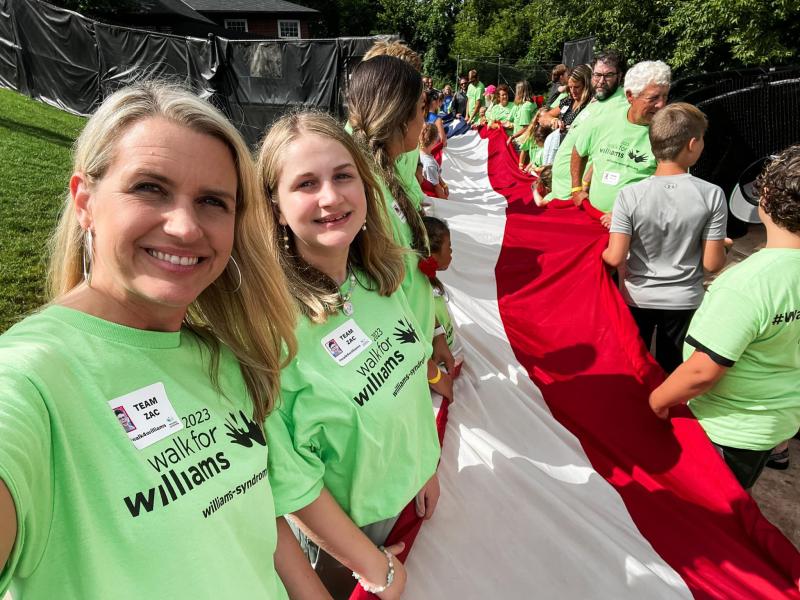 Discover the Williams Syndrome Association—a small organization with monumental goals. Despite our limited staff, our aspirations know no bounds. Our volunteer network is the cornerstone of our success. By teaming up with you, we aim to enhance the lives of countless individuals living with Williams syndrome, elevate awareness, expand event horizons, and achieve so much more.
Dive into a realm of volunteering opportunities within the WSA. Whether you're inclined to contribute your time to childcare during conventions or take the lead in organizing fundraisers, your additional support means the world to us. To explore the intricate details of our volunteer roles, delve into our comprehensive WSA Volunteer Handbook.
NATIONAL VOLUNTEERS
Offer volunteer support at WSA events, including camps and national conventions. Please contact us here.
GET IN INVOLVED IN OUR FAMILY SUPPORT NETWORK
We rely on Family Support Network (FSN) volunteers in each state nationwide to connect with families locally. Our FSN volunteers from each state connect with local families personally to answer questions and provide support, help locate and distribute local resource information, coordinate local events, and more.
There are three types of Family Support Network volunteers:
Family Support Specialist: Volunteers who support local families in several ways, including being the first point of contact locally when a family receives a diagnosis or moves into the area, providing information about local resources, and hosting social events for local families.
Family Support Volunteer: Anyone who volunteers to support other families, either locally or virtually, in a specific way. For example: connecting with other families or hosting an occasional social event.
Family Support Group Leader: Lead a WSA designate topic-specific networking group allowing parents and caregivers of people with WS who have a specific need to meet and discuss challenges and strategies. Groups are virtual and meet monthly to discuss experiences, share thoughts, and offer private "peer-to-peer" support.
If you're interested in volunteering in our Family Support Network, contact us or email familysupport@williams-syndrome.org.
BOARD OF TRUSTEES AND COMMITTEES
The WSA Board of Trustees is instrumental in shaping our strategic direction and fostering the association's expansion. Our current board consists of 14 dedicated individuals, two of whom have Williams syndrome, hailing from different parts of the country. The Board's primary objective is to ensure that the WSA's programs align with its mission.
The Board assumes the duty of diligently supervising our financial affairs. This encompasses careful monitoring of budgets and active participation in adhering to our "give or get" fundraising policy. This twofold dedication ensures the robust financial well-being of our endeavors.
Diversity and inclusivity are paramount in our considerations. The WSA is committed to forming a Board that mirrors the mosaic of our society. Our members encompass a range of ages, geographical locations, expertise areas, and cultural backgrounds, embodying our dedication to representing all facets of our community.
For more information about Board job descriptions or to find out about board member nominations, please contact us.