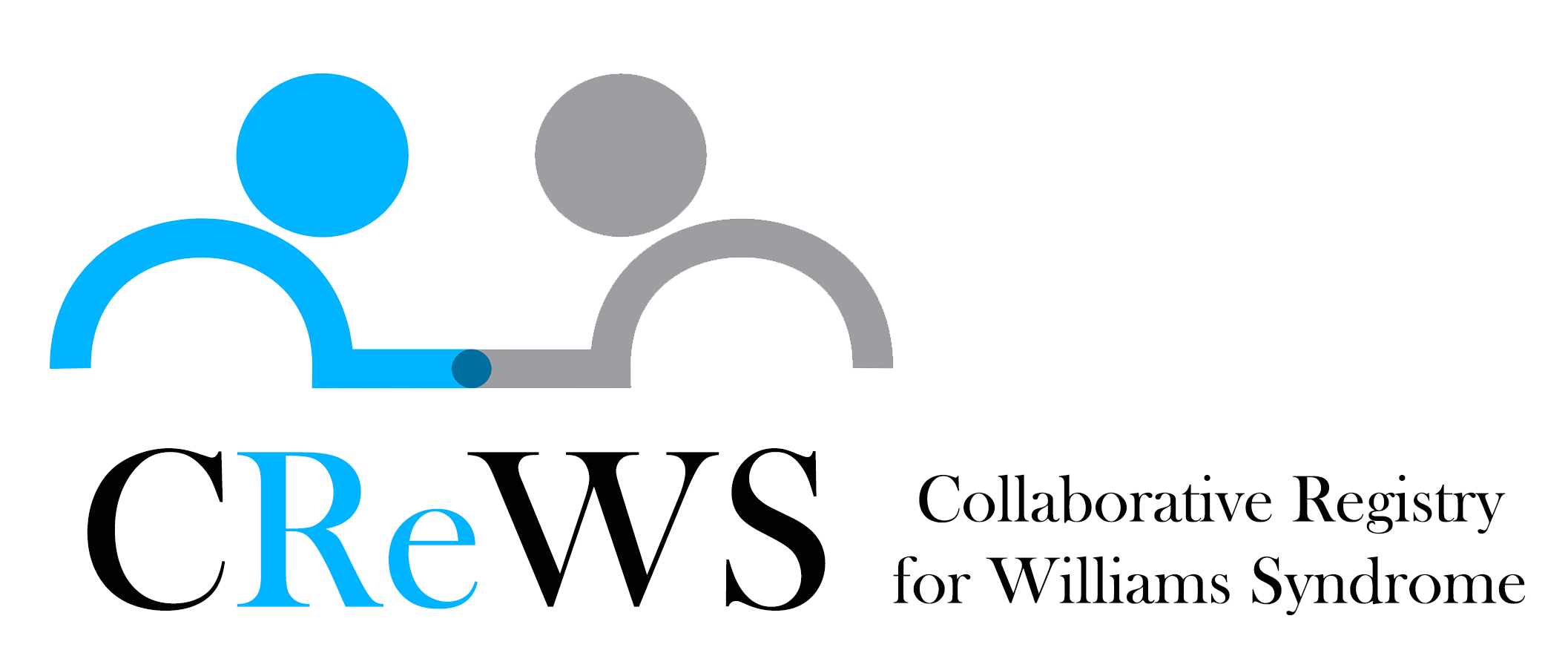 CReWS (the Collaborative Registry for Williams Syndrome) has been developed for, and is owned by the Williams Syndrome Association. The Registry collects data about the lives of people diagnosed with Williams syndrome (WS) in order to advance our understanding of the condition and its underlying causes, and develop better treatments for persons with Williams syndrome.
CReWS collects and organizes information & medical records on people with Williams syndrome and connects families to doctors and scientists currently researching the condition. All participants will be invited to answer surveys on medical, developmental, and social concerns beginning at the time of registration and continuing periodically going forward.  For those who attend WS Clinical Consortium sites, the medical providers will add clinical data to their research records.
We expect the registry will:
Foster & facilitate research into medical, developmental, and social concerns for those with Williams syndrome.

Collect reliable and complementary data from both clinicians and families.

Establish best practices for care of children and adults with WS.

Gather longitudinal data to better understand long-term outcomes.

Establish a large study cohort for a rare condition.

Support research in WS by more easily connecting those who conduct research, with individuals who are interested in participating in research.
Who can join CReWS?
Anyone who identifies with a diagnosis of Williams syndrome may join CReWS. A diagnosis may be clinical or based on a genetic lab report.  Lab reports should show deletions of any size that are within or overlap with the Williams-Beuren syndrome critical region (WBSCR) at chr7:72,744,454-74,142,513 (GRCh37/hg19).  Examples of genetic testing include FISH showing deletion of ELN, or microarray showing a deletion at 7q11.23.  Families will be invited to upload or submit a copy of the genetic test laboratory report.  All individuals with Williams syndrome must have a parent or guardian involved in registering with CReWS. The registering individual must be authorized to make medical decisions for the person with Williams syndrome, be over age 18, and be fluent in English or Spanish.  International and US participants may be enrolled. 
For more information contact:
Michele Disco, MS, CGC
Williams Syndrome Consortium Coordinator
Columbia University Medical Center
T: 212-305-1573
If you're ready to join, simply click the button or scan QR code below to get started.