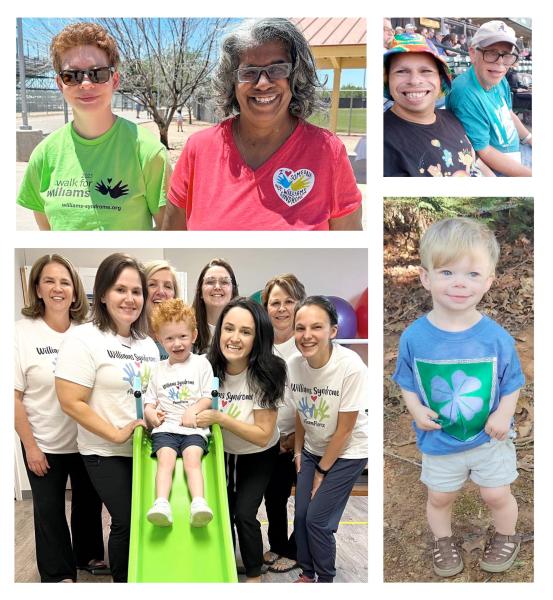 You Are Not Alone
Whether you are an individual who experiences Williams syndrome (WS) or a caregiver, it's important to remember that you are not alone on this journey. At the WSA, we strive to create a world where all family members feel understood and know there are others who "get it". You will have many questions along your journey, and the WSA is here to help you find the answers you seek or to offer the support you will need to keep going. So whether you are newly diagnosed, wondering if there is anyone like you in your community, or would like to develop a friendship with someone with shared experiences you've come to the right place. The WSA has more than 14,000 members and has the country's largest network of volunteers and resources around WS.
About the Family Support Network (FSN)
The WSA has a rich history of families supporting each other throughout their journeys. The WSA's Family Support Network (FSN) was established in 2021 to formalize this experience. The FSN is a nationwide network of more than 150+ family support specialists and volunteers across the country that are available to help you connect with your community & available resources. The FSN offers three core programs. 
Local support specialists 
Family support groups 
Local social & awareness events
Interested in volunteering in our Family Support Network? Call our office or email familysupport@williams-syndrome.org.
FAMILY SUPPORT NETWORK PROGRAMS
Local Support Specialists
The community of families impacted by Williams syndrome who are members of the WSA is 5,000+, but in your immediate community, you may be the only family with a child with Williams syndrome, or one of just a few.
Volunteers (parents, grandparents, and family members) have been identified in each state to help provide resources, personal information, and support. These Family Support Network volunteers are joined by many others who facilitate annual gatherings such as meet & greets, awareness walks, and fundraising events.
To connect with someone in your area, visit the Local Connections page on this site.
Family Support Groups 
Are you looking for ways to connect with other parents/caregivers? Our topic-specific networking groups allow parents and caregivers of people with Williams syndrome who have a specific need to meet and discuss challenges and strategies. Our support groups gather virtually monthly to discuss experiences, share thoughts, and offer private "peer-to-peer" support. The groups are facilitated by a WSA staff member, Family Support Volunteer, or professional in the specific area of focus. Groups are created based on the needs in our WS community. Check the Events calendar on our website to sign up to attend an upcoming meeting. If you haven't had a chance to attend, we encourage you to join us.
Some of our groups include:
Parents/caregivers of children and adults with a dual diagnosis of Williams syndrome and Autism
Parents/caregivers of individuals with WS with anxiety
Parents/caregivers of adults with challenging behaviors and/or moods
Parents/caregivers of children with WS ages 4 and under
Navigating Transition from High School to Adulthood
Parents/caregivers whose only child has Williams syndrome
Grandparents of individuals with Williams syndrome
Parents/caregivers of tweens/teens with Williams syndrome 
Parents/caregivers of children with feeding issues and complex communicators (beginning October 2023)
Adult siblings of individuals with Williams syndrome (beginning January 2024)
If you would like to join one of these networking groups or request that a specific support group be formed, please contact us or email familysupport@williams-syndrome.org.
Local Social & Awareness Events
One of the best ways to connect with other families and people with WS, who can provide lifelong friendship and support, is to attend an event. Countless WS events of some kind are going on across the country each month. The WSA, with the help of volunteers across the country, hosts a wide variety of events, including educational events, family picnics, walks, fundraising events, and more. 
Visit our website for a calendar of events happening near you. Want to get involved and help plan an event or get involved in WS awareness month? Check the Events page on this site, call the office, or email events@williams-syndrome.org.