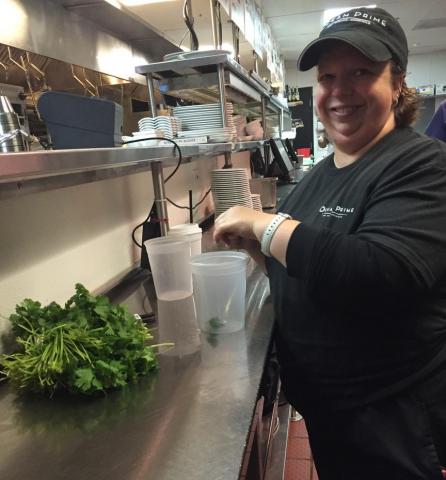 October is National Disability Employment Awareness Month.  Each Friday during October we will feature an adult with Williams syndrome and their workplace.
Melissa Tipton is 34 years old and lives in Michigan.  I spoke to Melissa recently about her job at Ocean Prime, a Cameron Mitchell, fine dining restaurant.
Melissa's career with Ocean Prime began the week after the restaurant opened seven years ago.  She is a general utilities worker in the kitchen.  In a nutshell that means that Melissa handles a variety of food preparation duties – from measuring, bagging and labeling portions of macaroni, to peeling and cleaning fennel for salad, to cleaning and portioning corn... the list goes on.
When Melissa started at Ocean Prime, she had a job coach but she quickly proved to everyone involved that she could handle the job very nicely on her own.  In fact, Melissa was recently recognized by the management and staff at the restaurant as the employee of longest standing at her location – she is the only employee at Ocean Prime today, who has been with the restaurant since it opened.
What are the keys to Melissa's long-standing career?   Melissa tells me that part of her success is the support she receives from her family who she loves unconditionally.  I'm sure that's true, and it's also her friendly personality and genuine care for her co-workers (and everyone she knows!).  Melissa has friends throughout the restaurant – not just in the kitchen, and they support her just as she supports them.  Ocean Prime's Team Tipton has attended every Walk for Williams in her area as well as other local WS events, and Melissa tells me they support her in the workplace whenever she needs it as well.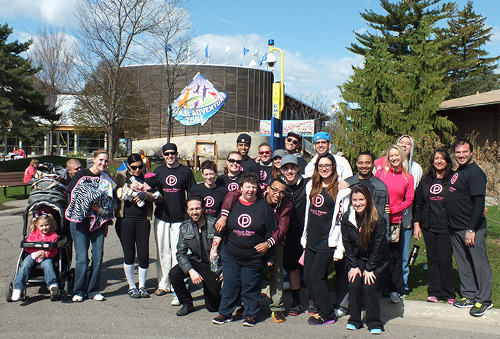 According to Ocean Prime's website, their associates are "great people delivering genuine hospitality". The Cameron Mitchell philosophy is to "put their associates first".  They have been true to their word for Melissa, and consequently, she hopes that Ocean Prime will be a lifetime career for her.  Melissa works 3 days each week; 4 hours per day.  Great job Melissa!  We're proud of you!