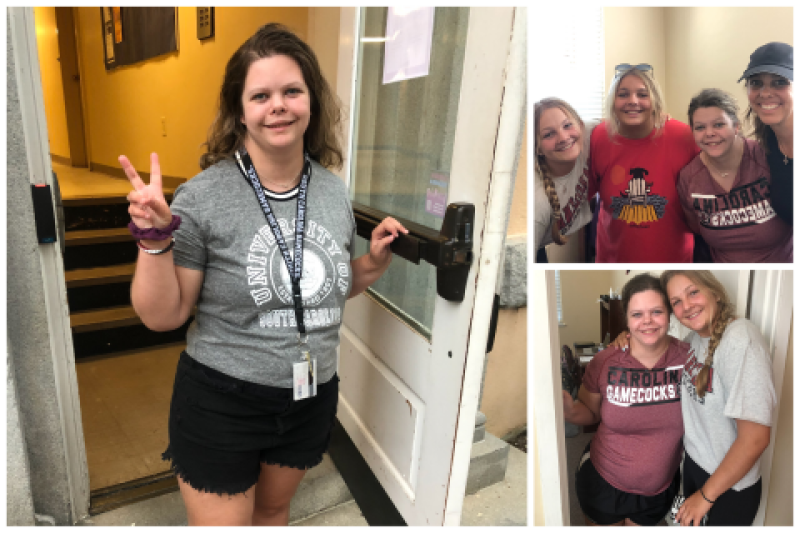 Joelle Packard recently embarked on a new journey and moved into her dorm to start the college program CarolinaLIFE at University of South Carolina.
It was one of seven programs Joelle visited, and is a four-year program that offers four components that her parents felt are important for Joelle's college experience: Academics, Career Development, Socialization, and Independent Living. They found all the programs through ThinkCollege.net (see below for more on this wonderful resource).
Joelle moved in on August 17th and started classes August 20th. She is living in a dorm suite which has a common area with a kitchen and two bedrooms. She gets her own room and her suite mate is a Senior. The location of the dorm is right on campus and easy to get around to all the buildings she will frequent. She was very excited and nervous at the same time, just like most incoming college freshman.
Joelle's mom Darian says that one of the challenges  right away when Joelle's roommate asked her if it was okay if her male friends came to their suite to visit. Joelle told her she wasn't comfortable with it, and the two had to talk through it and come to an agreement. 
Joelle will start off by taking general courses within the program, as she is undecided on a specific area of study for a career. She will then incorporate college courses related to the career she ends up choosing (this again sounds like most college experiences!)
Mom Darian shares: 
"Applying to college programs is a bit nerve racking because every program will only accept a certain number of students the first year. When Joelle visited U of SC, she knew immediately that it was the school she wanted to attend. There was no guarantee that she would be accepted, so she had to create a list of choices in order of preference. Fortunately, she was accepted and counted down the days until she was leaving for college. We feel very grateful and blessed that she is able to attend the school of her choice. It's a program that provided opportunities she was looking for in a school. I am so excited for her journey and can't wait to witness her growth and development over the next four years.

I strongly urge all families considering this path to go and look at the programs. It is so important to see them in person and know if the program is going to be the right fit for your son or daughter. My strongest recommendation is to start with College of Charleston. They have an all day meeting that really covers all the components that a program could offer the students. It will be the most informative meeting students and parents will attend at any school. Most other presentations are very short and don't really cover the details that College of Charleston presents. Once you attend this presentation, you know the questions to ask during your other visits. Every program is very different from each other. 

I am happy to answer any questions parents may have when embarking on this journey. I am so excited for the opportunities that lay ahead for Joelle and I would want to help any family who wants the same for their student."
We are also excited for all our student friends with Williams syndome who are attending programs this year and every year and look forward to hearing about their learning and accomplishments. 
*Think College is a national organization dedicated to developing, expanding, and improving inclusive higher education options for people with intellectual disability. With a commitment to equity and excellence, Think College supports evidence-based and student-centered research and practice by generating and sharing knowledge, guiding institutional change, informing public policy, and engaging with students, professionals and families. They have been guests at WSA conventions and the go-to place to learn about college opportunities. Check their site for seminars and resources. We recommend that parents/caregivers get started thinking about these programs early and plan in advance.