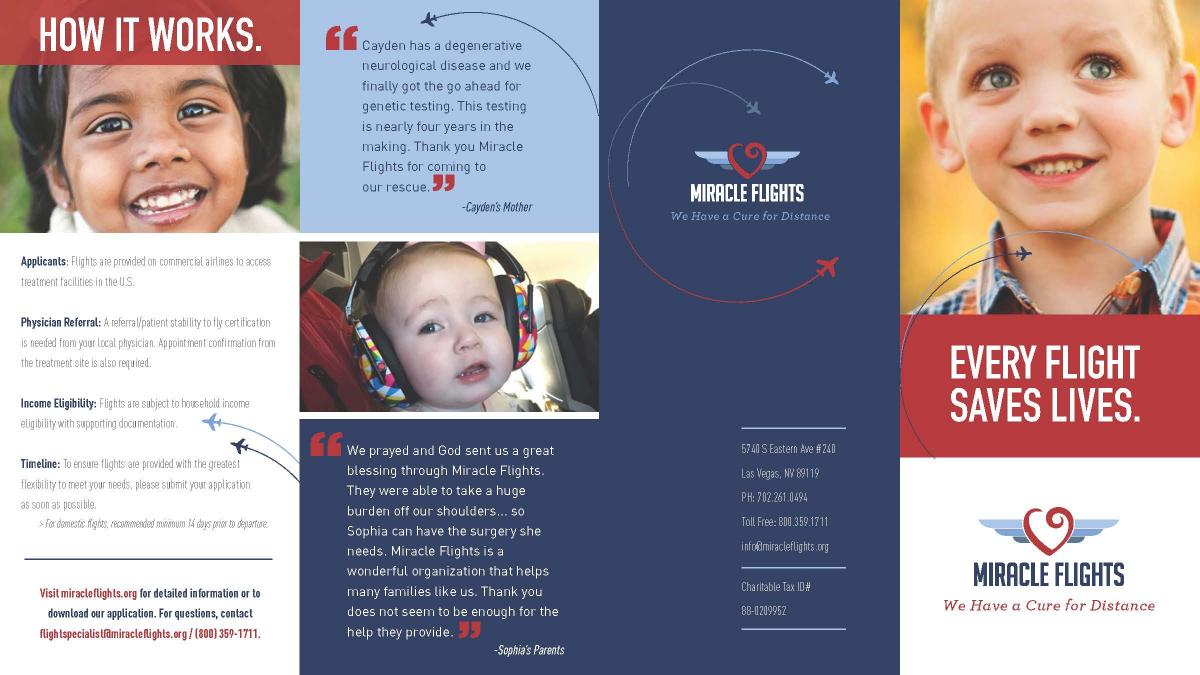 Miracle Flights was founded in 1985 as a nonprofit health and welfare flight organization that provides children and their families free flights to distant, specialized care and valuable second opinions. Their mission is to "provide free commercial flights to those in need of life-changing medical care not found in their local communities." In the past, they primarily served children, but they have opened up their services; in fact, 25 percent of their flights today serve adults. Additional details on their services include:
Coverage: Miracle Flights can provide travel for treatment, surgery and clinical studies. In addition, they provide flights for travel to pick up service dogs, since they realize that these companions can be a vital addition to a health program.
Eligibility: Low-to middle income families. Call for a consultation to see if you're likely to qualify before taking the time to fill out the form.   Who can travel? If the patient is a child, up to two caregivers may also travel on the flight. If the patient is an adult, he or she can be accompanied by one caregiver.  
Miracle Flights appreciates two-four weeks lead time, but they understand that emergencies happen and they make exceptions/accommodations.  They recommend contacting them  to request exceptions.
The great news is that the organization does not limit how often their services can be used per year and families can apply for long or shorter trips. Miracle Flights knows that a five hour drive can be taxing, so they encourage both cross country and in-state trip bookings. They are also able to work with any airline so they can get the patient to the the airport that works best for them.
 If you're not sure if your situation or finances would qualify for a flight, give them a call and ask--they are a very friendly and engaging organization! "Zack's" parents provided the following personal recommendation:
The specialized cardiac team at Boston Children's hospital provides Zack with the ongoing and complex heart treatment he needs.  He was last flown by Miracle Flights to be evaluated by a genetic specialist at Massachusetts General Children's Hospital at the beginning of October.  We are lucky for Zach to see a geneticist who specializes in Williams Syndrome.  The generosity of Miracle Flights allows Zack to be treated by doctors who understand and can treat the many issues associated with Williams Syndrome, and we are so appreciative!

Miracle flights is an amazing support for our family. We appreciate the organization and everything it does to help children and families.  The service that Miracle Flights provides eases the financial burden and reduces the stress of multiple medical trips.  Despite his health challenges, Zachary is growing and learning every day.  Thank you for supporting our family.
To find out more or contact the organization: flightspecialist@miracleflights.org or visit their web site: Miracle Flights.