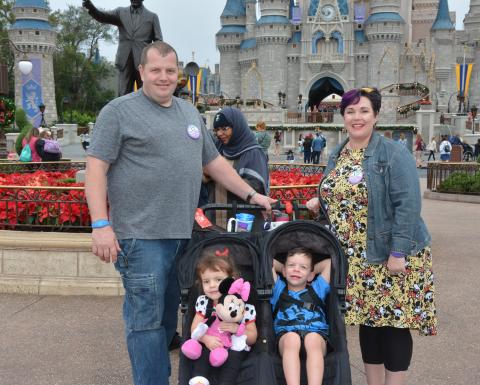 Disney can be a magical place for children of all ages (adults too!) and is a fun destination for many families. Those who have a family member with Williams syndrome may face some logistical challenges, but Disney is known for being on top of their disability services, and there is so much information on their site.
But we know that nothing beats personal experience and recommendations, and the WS family always steps up to provide inside information that can't be beat! Bethany Franz, a middle school teacher in New Jersey, her husband Mike, and children Frankie, six (WS) and Reese, three, all made a trip to Florida's Disney World last year and she was generous enough to share some tips for families planning to travel to the land of Mickey! 
They visited the week between Christmas and New Year's, and absolutely loved the holiday theme and special activities during that time, but Bethany's advice can translate to any time of the year to ensure a good visit. She says that, especially during that holiday week that "People warned us that it was going to be crazy, but we had a wonderful time. They really do Christmas. Decorated top to bottom, lights and everything that's magical." Bethany and Mike were married and had their honeymoon at Disney in 2010, so this was also an anniversary trip. 
First, Bethany recommends going the Disney consultant route. She says she could've done it herself, but they really know their stuff and it will save stress. She had a connection with a parent in her daughter's class, but if you don't, ask around or find one at AAA. She helped the family figure out the best meal plan and what passes would work to make the most of their trip. Children under three don't get counted within the meal plan, as Reese was at the time, so keep that in mind. To make the most of that, the consultant said to order one adult meal and split between the two kids, as there wasn't a rule that a child had to have a children's meal. There was "so much food—we were putting snacks in our bags because we couldn't eat it all. We also went to so many character dinners—but it was a wonderful experience for the kids."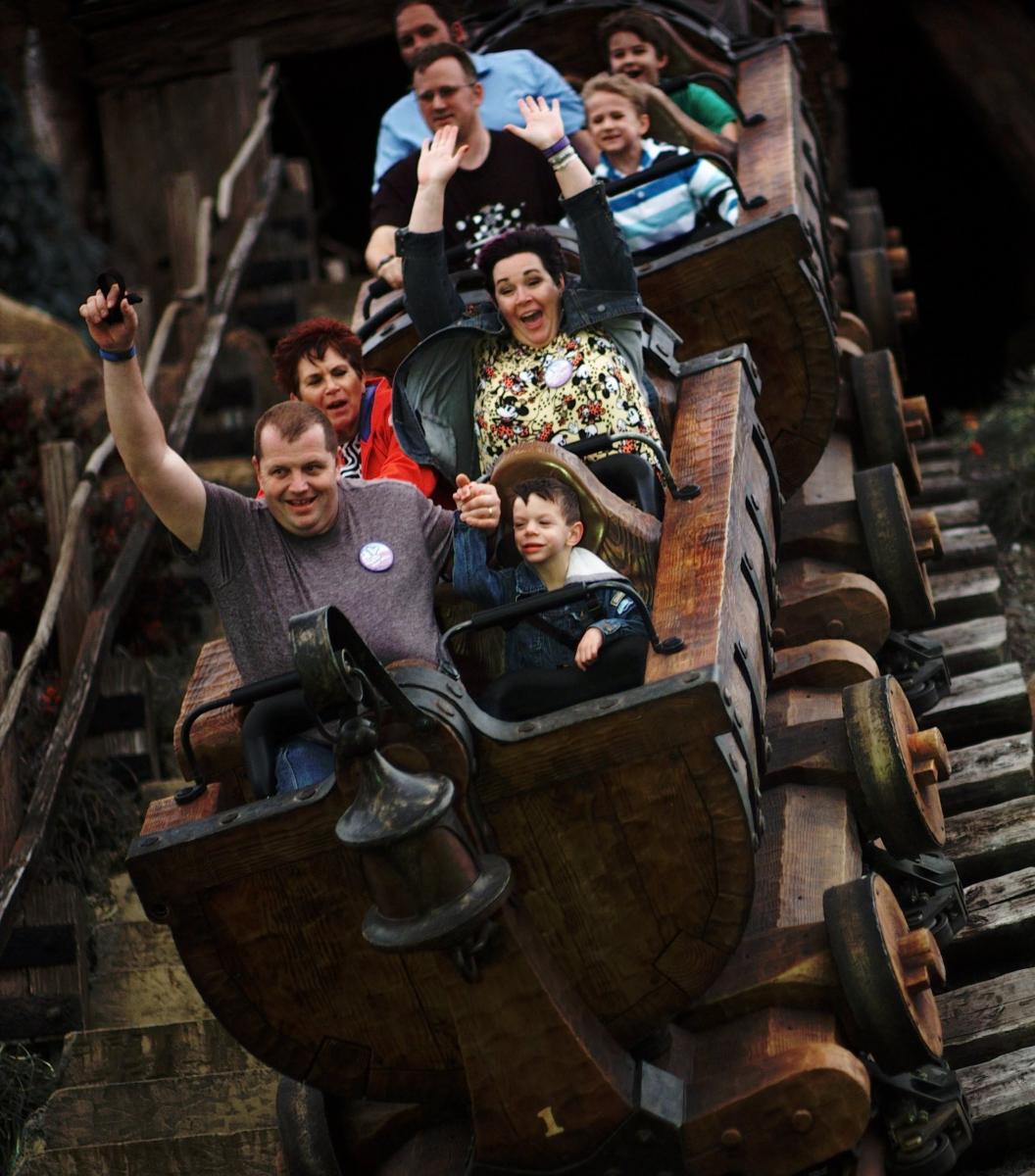 As for parks, the family visited Epcot (one day), Animal Kingdom (one day) and The Magic Kingdom, where they spent two days. The day they arrived, the family took a down day and then another one in the middle of the week. Disney Springs/Downtown Disney and the hotel pools are good for those times. Bethany doesn't recommend the hopper, as "you're not going to more than one park a day with little kids." 
She stressed to get to the parks early, as they can be at capacity by 10 a.m. during busy times.  The only time she says it seemed very crowded was during the parades and fireworks. "We did the 6 p.m. fireworks—get yourself a spot by the castle early. You're not going to sneak in anywhere if you're late. Don't be in a rush after either, as it is difficult to move. So we made a 7 p.m. reservation in the castle to eat since we were in that area."
lso take advantage of the Disability Access Services (DAS) fast pass card. Disney staff take a picture of your child and it goes on their wristband—it's like an extra fast pass.  The family wasn't asked for documentation, but be prepared in case they do. Because of this pass, Frankie got to ride everything twice.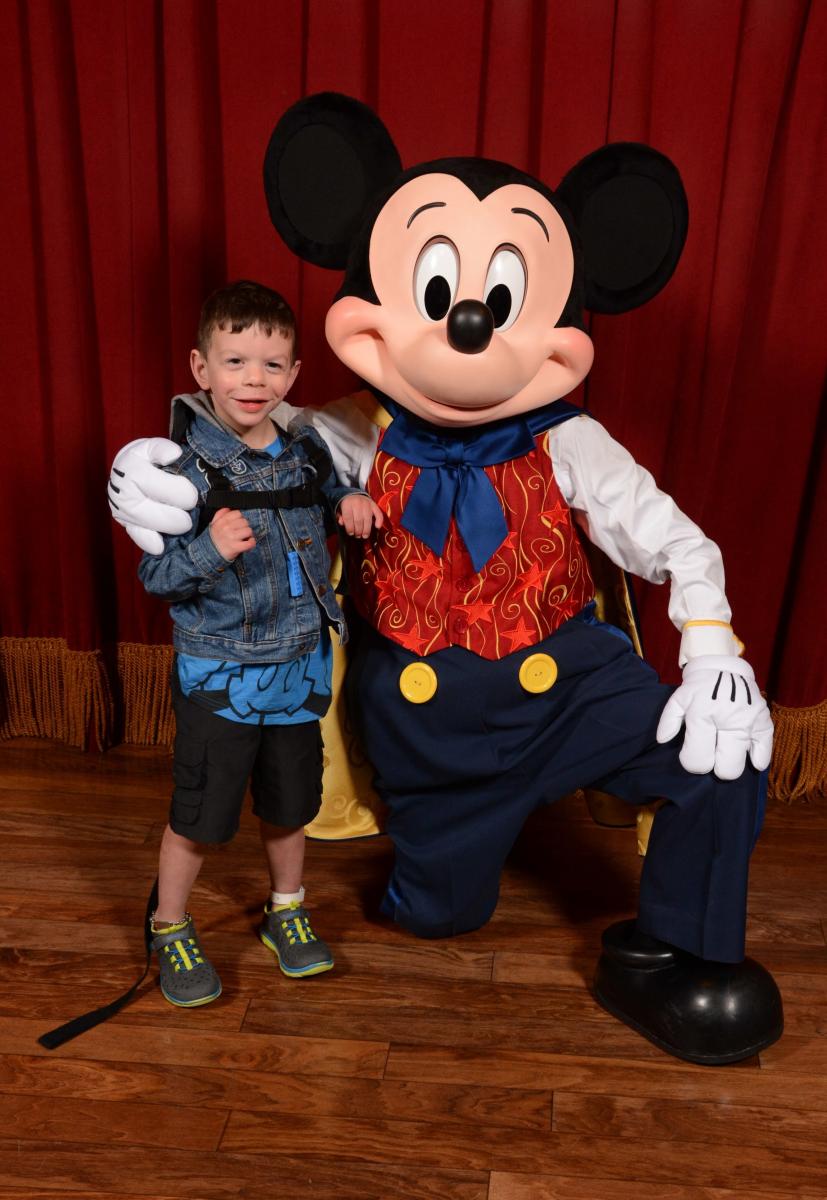 Frankie also really enjoyed Talking Mickey, as we suspect many children with WS will. Though Mickey is in every park, he only speaks in Magic Kingdom. "It was incredible for Frankie, as Mickey said his name and interacted." NOTE: as of October, 2018, we've heard that this is no longer available--confirm with Disney before making any promises!
Other fantastic tips include: 
Check to see if your airport has TSA Care, which is a special needs concierge service. Bethany says that the Orlando airport was fantastic with them. 
Renting a stroller from an outside company when they arrived was helpful, as Disney will provide a flag sticker for families with a child with different abilities with a wheelchair picture that can then be used in places that are wheelchair accessible. 
Take advantage of Rider Switch, where one adult can wait with the non-rider (or riders) while the rest of the party enjoys the attraction. When the other adult returns, they can supervise the non-riding  Guests and the waiting adult can board the attraction without having to wait in the regular line again!
Bring an extra bag to pack purchased souvenirs and save yourself the shipping. 
Let family and friends know that you're going (especially for the holidays), and people may buy you Disney gift cards or Disney dollars. 
Download the Disney App, which gives up-to-the-minute alerts and information that can save time and disappointment. 
As to where to stay, many agree that it's worth it to stay on a Disney property for the convenience. The Franz's stayed at the Coronado Springs Resort, one of the mid-priced Disney properties, which has an Aztec/Mayan theme, and thought it was lovely—they were even upgraded to a suite (never hurts to ask for upgrades!)  
Bethany and her family had a great time, and we thank her for sharing the tips so other WSA families can too!