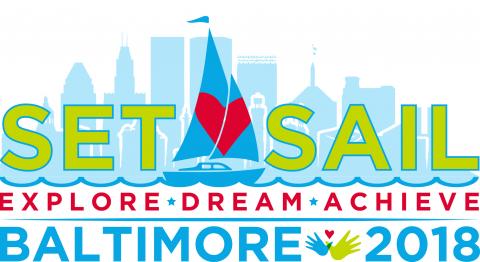 It's hard to believe that it has been 31 years since we attended our first convention in Cincinnati.  It was July of 1986. Ben was just six months old – and I was sleep deprived – but I still have so many vivid memories of that weekend...
It was our first convention, and the WSA's second.  Ben had only been home for about eight weeks following nearly four months in the hospital and two complicated heart surgeries, so we brought him with us.  I remember we had to promise we would leave a session immediately if he became colicky and disrupted the speaker.  Childcare was unofficial and little more than a group of young kids out in the hallway with a few parents
The convention ran from Friday night through Sunday. The speakers were not Williams syndrome experts from the medical field or specialists who knew how to educate children with WS as they are today. There were no WS research teams.  All of us – even the professionals on hand – were just beginning to learn about Williams syndrome! 
Still we came home with new information.  We learned about the benefits of therapy and the common issues that were known to be seen in WS.  More importantly, we learned that there was no reason to travel this new journey alone and that we ALL had something to share. Even Gary and I, brand new parents of an infant with WS, had already had with Ben that were new to others in attendance.
We quickly realized that TOGETHER we knew so much more than we did individually – that sharing the knowledge we had all gathered about Williams syndrome (especially from crucial personal experience), would enable each of us to go home knowing more than when we arrived, and we would all be better prepared for whatever the future held.
We also went home with a "family" of those we could call on when the going got rough, or when we needed to share a small accomplishment with someone who understood what a huge deal it was!
Conventions look different today -  there are many experts in Williams syndrome from the medical and educational fields present to share their knowledge with us.  Research professionals take two days to share their findings with each other, and often spend time with families to expand their studies.  Instead of 20 or so children on hand, there are more than 300 of all ages from infant to older adults.  Next year in Baltimore, we are adding another element to the Convention experience. In addition to the personal IEP reviews we initiated in 2016, families will have access to specialized evaluations by therapists, and personal special needs trust reviews. 
Learning doesn't stop with the first Convention! We continue to make advancements in medical research, and we will have educational and transitional experts on hand to share the knowledge they have gained as educators find better ways to help students with WS access curriculum and transition experts find new avenues for successful community inclusion.  One thing remains the same – the convention is still a life-changing experience for all those attending for the first time, and invaluable for everyone in attendance.
Terry Monkaba
Ben's mom & WSA Executive Director