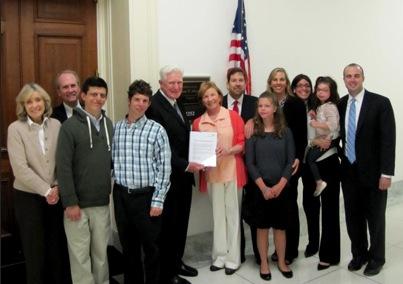 When Ben was diagnosed with Williams syndrome 27 years ago, Gary and I were alone in Ben's hospital room. There were no family close by, there was no internet to consult. We were provided with a 20+ year old medical paper, and the news that our lives and that of our 6 week old son would be immeasurably different than we had thought just a few days earlier.
In the days and weeks that followed we would scour libraries for information with very little success, and speak to therapists and specialists who had little, if any knowledge of Williams. And then, quite by chance, we learned that there was another family in our area who had a child with Williams syndrome. We called the family, and with that call, our lives were set on a better course. We were no longer completely alone.  Not only did we speak with a family who knew what we were going through, we learned about the Williams Syndrome Association – a small but growing community of families who had a child with WS and professionals invested in learning more about this rare disorder. It was a bit like being "found" after days of being hopelessly lost in a very strange place.  Less than a month after the call, Ben was the youngest attendee at the WSA's 2nd convention – a weekend meeting held in Cincinnati, Ohio.
For more than 25 years, I have been watching the WSA community grow and privileged to have the opportunity to be a part of something wonderful. With the help of many others, the growth of our community has gained remarkable momentum in recent years, and with that momentum has come great strides in our community's ability to influence WS awareness, increase research interest and provide family support of all kinds. With new diagnosis techniques and more informed professionals, children with Williams syndrome are being diagnosed earlier, and with the help of the internet, families are finding each other sooner and reaching out to help each other and inform professionals and friends.
We are making an impact - creating awareness and understanding in the general population where once there was none.  And with awareness and understanding comes opportunity; better education, more jobs, new independent living options, and new treatments for the many medical, neurological and psychological issues that confront our sons and daughters.
But even more important for many is the strong sense of family that grows among the immediate WSA members. The Facebook communities, blogs and forums which allow us to connect on a daily basis rather than just occasionally at events, help us form bonds that lead not just to camaraderie but to trust. And with that trust comes the confidence to share the things that are traditionally reserved for family and our closest of friends - the joys, big and small, that our children provide and that we once thought no one would be interested in, and the challenges and sorrows that we are dealing with in relation to the diagnosis of Williams syndrome. The heartfelt responses of all types that we receive remind us that we now have a much larger family from which to draw support.
During a period of a just a few days WSA families may witness videos and share a parent's joy at one child's first steps, and another's lost tooth. We "cry happy tears" along with our friends as they report their children's special awards, and virtually "high five" high school students with WS who are crowned Prom King or Queen. Simultaneously we may bolster the spirit of the young parents of a child about to have surgery, and release balloons and our heartfelt thoughts and prayers in memory of a child whose life was cut way too short.  As members of the WSA family, we may experience more joy and more heartbreak in just a few months than many families face in a lifetime. It's not always easy to be a member of this family, but it always worthwhile.  Ours is a very diverse family, and we can all benefit greatly from the wide variety of expertise and the varied wisdom of our members. We are making an impact, not just on the community at large, but on each other, and our children reap the benefits.