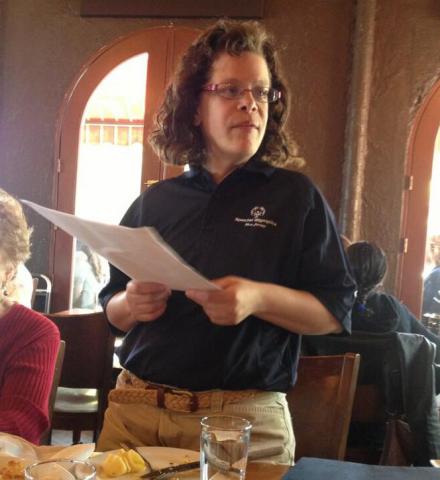 October is National Disability Employment Awareness Month.  Each Friday during October we will feature an adult with Williams syndrome and their workplace.
Kelley Martin is 39 and lives in New Jersey.  Following high school Kelley attended the CAPS program at Maplebrook School in New York and the Berkshire Hills Music Academy in South Hadley, Massachusetts.  At each of those programs Kelley acquired better independent living and vocational skills which she put to use upon her return to New Jersey. 
Kelley now lives a few miles from her childhood home, in her own apartment. During a recent interview, Kelley told me she loves the quiet of having her own place, but she also knows most of the other residents in the building and "they are all very sweet and willing to help me if I need something".
Kelley is a lunch time hostess at an Applebee's Restaurant, a position she has held for nine years.  She has many lunchtime regulars who visit the store specifically when she is working and has been honored with the "employee of the month" award twice.  She has also worked her way up to the position of "Senior Hostess" on the day staff.  Kelley explained to me that the senior hostess is the person that others on the host staff come to if they have a problem.  Kelley then helps to find a solution.  
Kelley works 25 hours per week, and has held her job longer than any other member of the host staff.  She loves working at Applebee's because "it's a great environment and I love the people who come in".  Kelley also loves Applebee's charity program – especially working with the Marine's Toys for Tots and the Veterans.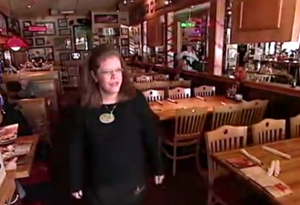 Kelley keeps busy after work as well – especially in Special Olympics.  She has been participating in Special Olympics for 30 years.  Kelley participates in skiing, bowling and track and field, and has "too many medals to count".  Several years ago, Kelley became a Sargent Shriver Global Ambassador.  She is as comfortable behind the podium speaking on behalf of the athletes, as she is participating in the events.