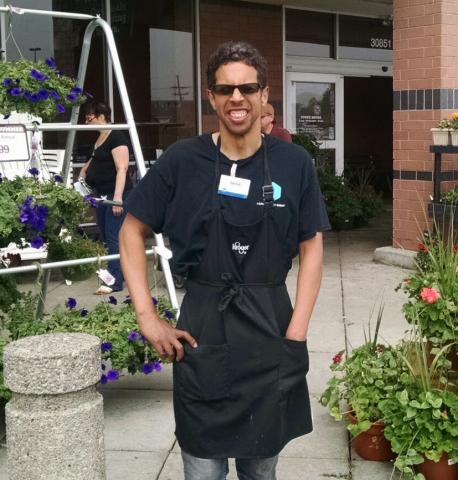 October is National Disability Employment Awareness Month. Each Friday during October we will feature an adult with Williams syndrome and their workplace.
Jared is 30 years old and lives in Michigan. He attended a post-high school educational program in Michigan called Macomb Academy.   The mission statement at the Academy is ".. to provide in collaboration with community and business resources, a transitional education program to prepare students for adult roles in the workplace and life". Jared was very well suited for the program which involved working on independent living and job training.  The regular school day was split between classroom and job training sites in the community. The work-experience in the community is one of the main factors that helped Jared find a job as a courtesy clerk at the Kroger grocery store chain. His employment search took over a year and was supported by a job coach who helped Jared submit applications at over 50 locations until he found the job at Kroger.
Jared has just started his 6th year of employment at Kroger, working part time and averaging 30+ hours per week.   His position at Kroger includes bagging groceries, taking care of the bottle return room, collecting grocery carts and assisting customers whenever asked. His engaging WS personality, uncanny ability to remember every face and passion to get a smile out of everyone has made him a favorite employee at his store. Many of his customers go out of their way to get in his line, just to have him pack their bags. The store has an employee recognition program where employees receive Kroger cash cards based on the number of positive customer surveys the management receives. Jared has received numerous cash cards! He rides his bicycle to work weather permitting or takes public transportation independently.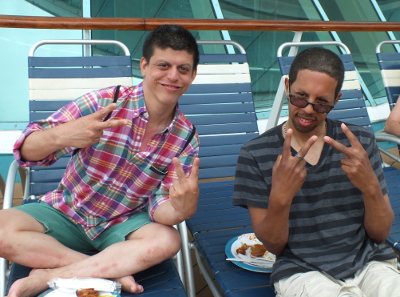 Outside of work Jared has many friends and plays on a softball team for players with challenges. He is a member of the WSA Adventure Seekers group, participating in convention programs, camps and weekend trips, and he travels independently to visit his WSA friend, Max in Washington, DC and his sister in Chicago. Jared has mastered the use of both Uber and Lyft in the Metro-Detroit area to get himself home safe after a night out with friends. He has a rich and productive life.