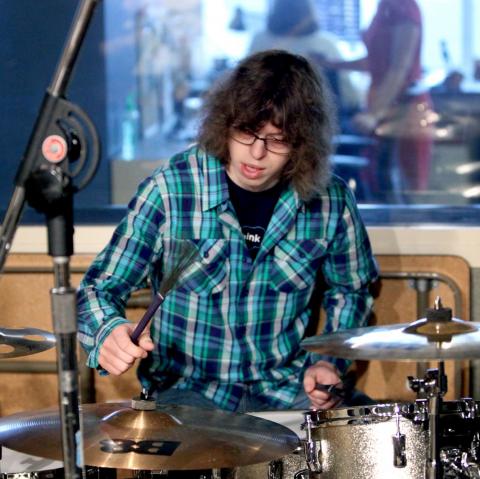 October is National Disability Employment Awareness Month.  Each Friday during October we will feature an adult with Williams syndrome and their workplace.
Twenty-eight-year-old Brendan LeMieux of Connecticut wears a few different vocational hats. 
"I'm a musician—I play drums and percussion for my sister's jazz band, The Sarah LeMieux Quintet, and I play drums, guitar, and bass for my own band, the Kandoo Band. " When asked if being a musician was a fun profession, Brendan was quick to say, "Oh yeah, absolutely. But it's a lot of work, too.  Not only practicing, but setting up and breaking down, especially for a drummer, and loading in and loading out at gigs, and learning new material. Especially for the jazz quintet, that's work." Brendan notes that being a professional musician is often a combination of part time jobs. "My sister also teaches, and she's a mom, too.  And I work part time at a law firm." The Sarah LeMieux Quintet has won the Hartford Courant's CTNow Connecticut Music Awards "Best Jazz " artist for the past two years. "We won the Best Album Award for 2015, too, and got to play at Infinity Hall in Hartford  with other award winners.  Recording the album ("Moments Musicaux") was one of the best experiences of my life."
Always a member of his school band going through middle school and high school, Brendan attended Berkshire Hills Music Academy for a year. "That was great because I got to be in so many ensembles." After BHMA, he went on to study percussion at the Neighborhood Music School in New Haven, where he earned an Honors Certificate in percussion in NMS's Certificate Program, under the mentorship of jazz master, Jesse Hameen II. 
"I love playing jazz, but I love rock, too.  We play a lot of covers in the Kandoo Band." The other members of the Kandoo Band are all musicians with Williams syndrome. "What's really special about playing with my close friends, whom I've known since we went to Belvoir [Terrace WS Music Camp] together, is that when we play, we always have a really good vibe together. We're very harmonious with each other." The Kandoo Band was started in 2007. "We play for a lot of Best Buddies events, like the Hyannis Port Challenge and the BBCT Friendship Walk."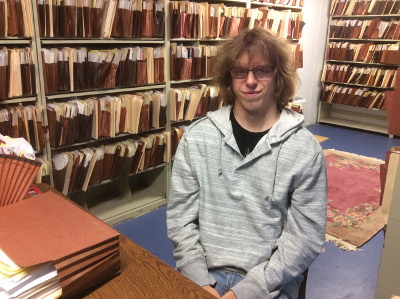 When not playing music, Brendan works part-time at a small local law office.  "We are an elderly and disability law firm. I do the filing and the shredding, and sometimes witness documents.  It's nice because we mostly help people—we're not the kind of law firm that sues people."
In his spare time, Brendan volunteers for Best Buddies Connecticut as a Buddy Ambassador. "I had to go through training at the International Leadership Conference held at Indiana University, which I did three times. I've been an Ambassador for four years, now." As part of the Best Buddies leadership program, Brendan has shared his story with school audiences and corporate sponsors, including New York Life Insurance, 100 Women in Hedge Funds, and Deloitte.  "I love being an advocate for the social inclusion movement of Best Buddies. I feel like I'm making a difference in this world. And that means a lot to me."