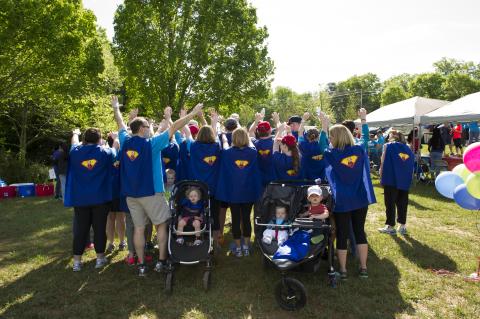 Those of us who are parents assume that we will be our childrens' hero- and we are, MOST of the time.  But when we become parents to an individual with Williams syndrome, the potential for our role as heroes changes dramatically... and not just in regard to our son or daughter. Throughout our journey with a child with Williams, we will both be heroes and receive the benefits of many heroic acts.
Does it take magical powers, capes, or costumes to be a hero?  Those are the accessories of "super heroes" – every day heroes need no special adornments, but the do have power.  Heroes can brighten days, defuse tough situations and turn despair into hope. Examples of my personal heroes include:
The young nurse who somehow found ways to keep me positive during my infant son's cardiovascular surgery –  a procedure with odds for success of just one in 100
A friend who sends me cards several times a simply to celebrate a tiny act of kindness or help acknowledge and overcome a recent challenge.
The son of my racquetball partner who was a titanium rod representative and knew "the perfect surgeon" to correct Ben's severe scoliosis...and he was.
The high school band teacher who gave Ben a chance to shine during his four years with the program.
My personal list is long, and includes those (many of you) who saw a need and reached out to help in any way you could.  In my position with the Williams Syndrome Association, I am lucky enough to hear about others' heroic acts:
The young mom who lost her child with Williams syndrome, but continues to reach out to WSA families with thoughtful acts of kindness.
The friends of a WSA member who created care packages for their friend to deliver to other moms when their children are in the hospital.
The neighbor who showed up on a member's doorstep with personalized capes for everyone to wear at an awareness walk – capes that would celebrate their young son with Williams and his heroic efforts during and after heart surgery.
The Williams Syndrome Association is also a community of heroes and recipients of heroic acts every day – in fact, we depend on them.  Without the timely support of numerous heroes, we would not have grown from a community of a few, to a community of thousands; we could not have become the most comprehensive resource on Williams syndrome in the world. We have succeeded because we have many different heroes among us – each with unique gifts and abilities to share:
The member who walked into Dr. Ursula Bellugi's  (director, Laboratory for Cognitive Neuroscience and chairperson of Salk) office and insisted that she meet her daughter and learn more about Williams syndrome – a meeting that led to 30+ years and millions of dollars of valuable research and critical information about Williams syndrome.
The friend of a member who recently offered us pro bono lobbying support on Capitol Hill for "as long as it takes" to gain national recognition among the lawmakers and the funders who have the power to make significant and positive changes.
The children with WS throughout the country who have charmed and challenged their doctors  - leading them to become our professional advisors and advocates, start WS Clinics and make Williams syndrome a professional priority.
The parents and professionals who have pledged their wisdom and support as trustees to help create and sustain the mission and vision of our organization.
The parents and relatives who become Regional Coordinators, dedicated to helping families gather in their communities.
The parents, relatives and friends who coordinate awareness and fundraising events – this year alone there were more than 60 walk coordinators and 360 fundraising teams who "led the charge" during awareness month.
And of course, each of you who provides any measure of funding support to the WSA, and urge your friends and relatives to do the same.  Those gifts, whether from the proceeds of a child's lemonade stand or, a sizeable personal or corporate gift, are all equally important and are the financial lifeblood of our organization.
How have we all found it within us to be heroes to others?  The answer is simple.  Our children with Williams syndrome are the best role models.  They are the ultimate super-heroes – creating magic wherever they go and constantly finding ways to inspire, encourage and impress just by being themselves. 
Most of those reading this blog are already members of the WSA, so thank you for joining our community.  Our next heroic goal is to increase our membership to 5,000 by year end, and to 10,000 within 3-5 years.  We appreciate the online community, but we must also convince our Facebook and internet friends that there is a reason to officially join and support the WSA, so please use your influence.  They will be joining a very special community – a community of heroes.
By joining together, our everyday heroic gestures can take on those magical powers of the super heroes. That's exactly what the WSA has always been, and should be...a super hero!
- Terry Monkaba