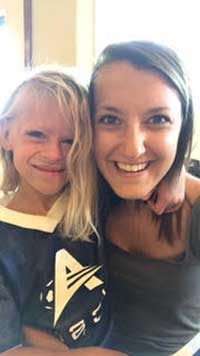 Back to school for many WS families can be exciting, yet filled with much anxiety about the variety of learning obstacles our kiddos face on a daily basis.  For our family, upon learning the diagnosis of our oldest daughter Stella (diagnosed at 5), we elected to actively seek out a school district and school that would rise our daughter up to her fullest potential. 
Since moving into the Poudre School District (Timnath, Colorado), we have been beyond thrilled with the level of engagement from the Integrated Services Team and in particular, the educators at Bethke Elementary.  From fully supporting an integrated environment to providing Stella with top down support in becoming the best BOBCAT she can be, they have truly made Stella's success a priority.  
There are myriad people and activities that validate our choice to place Stella at Bethke, but the relationship she has with her PARA professional Cydney Waybright and Bethke's support of such has been so impactful to Stella and our family. When Stella first went into the Integrated Services program (age 3) with her previous school district, we were told that Stella would never have the same PARA as it would cause "too much dependency".  Although possibly true, as parents we were equally concerned about the constant shifts of educators, as Stella (and most WS kiddos) are so relationship centric.
Last year, Cydney was placed with Stella in kindergarten and is Stella's lead PARA once again in 1st grade. Cydney, a graduate of Colorado State University, is currently getting her master's in special education at UNC and in her short time as a PARA professional, has taken true ownership of Stella's developmental progression. Over the summer, she tutored Stella twice weekly and took her on several enrichment outings, including to a movie (Stella sat all the way through for the first time—EVER), the petting zoo, and to Chick-Fil-A on her birthday. Though we know all teachers strive to give 150% to their students each day, we are simply blown away by the relationship Cydney has established with Stella. With firm direction and positive reinforcement from Cydney and the entire Bethke team, we are seeing strides in Stella each day. In addition to sitting through her first movie, she also completed her first puzzle this summer and this fall is riding the bus home from school on her own.   These HUGE steps would not be possible without the support of a rockstar network of staff and students.
As the saying goes, "a good education can change anyone, but a good teacher can change everything."  Going into school this year, we feel Stella's best interests are at heart and at hand with Cydney and we are thankful each day for her level of engagement. 
Jen and Luke Keeton
Parents of Stella (WS-Age 7)
For information to provide to educators, visit the Education section of our site.